Perfectionism Part II: Overcoming the unrealistic desire to be perfect
Perfectionism keeps you stuck as you obsess over every little thing while focusing on progress motivates you to keep going!
Hey there, welcome to the sixth issue of the Breakdown. Thank you for reading Thursday's newsletter. It clearly resonated with a lot of you which is why we are having a follow-up and contributions from former perfectionists. Let's dive right into today's 'sermon.'
Perfectionism, as we have seen, can be a huge problem. Thankfully, it can be fixed. Here is how:
Remove the burden of perfection
The first thing you need to do is realise that you are not God. Striving for excellence is healthy but aiming for perfection from yourself and others every day of every year is exhausting, toxic and frankly unattainable. So, let it go.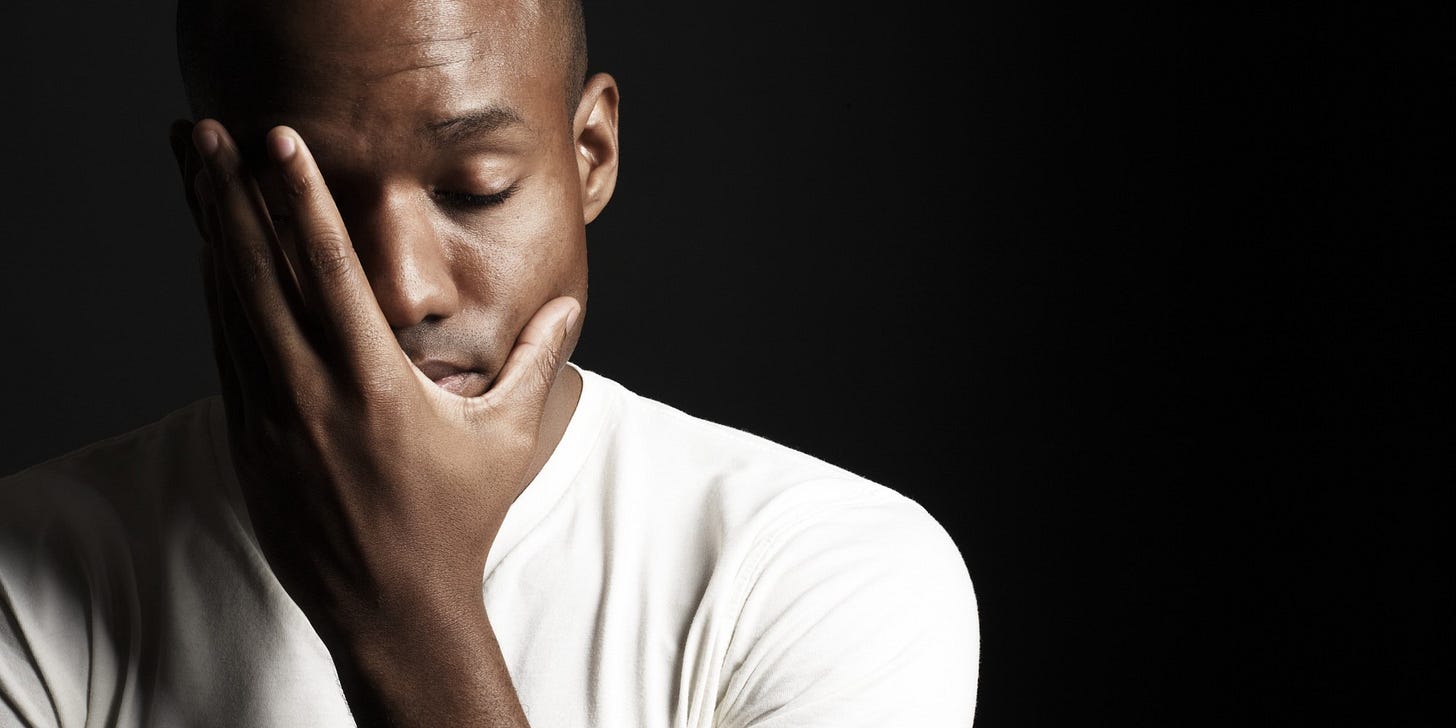 Picture yourself mentally removing that heavy burden of perfection placed on you by other people, society or yourself. Take off that pressure to be the perfect mother, wife, girlfriend, boyfriend, husband, father, employee, daughter, son, singer, writer, you name it. 
Accept your 'imperfections'
"As humans, we have our unique strengths, and weaknesses," Clement Sadjere, a Nigerian Content creator notes. "That is what makes us human. When I realized my weakness won't make me live a perfect life, I had to accept my frailty and enjoy my imperfect state. Doing this helped me become a better person and break free from the chain of perfectionism.
Choose progress over perfectionism
Now, that you are finally free of that heavy burden you have been dragging around all these years, whew, its time to replace perfectionism with progress. 
I find that the best way to effect real change is to replace a destructive thing with something better. In this case, you are going to let go of perfectionism as a way of judging your efforts and achievements and start focusing on progress instead. 
When you are tempted to obsess over the fact that your actions are not perfect or that a situation or person is not perfect, remind yourself of how far you have come and how much progress you have made and will continue to make.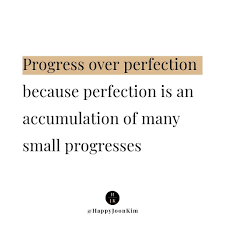 With progress, the goal is simply to be better today at something than you were yesterday. That's it! With this mindset, you are embracing every moment, learning and making the necessary adjustments to keep growing.
Perfectionism keeps you stuck as you obsess over every little thing while focusing on progress motivates you to keep going and encourages you to enjoy each accomplishment and success, no matter how small. Frankly, it's a better way to live.
Reduce and eventually eliminate that all-or-nothing mindset 
Being a perfectionist means your mindset is rigid and extreme. Its either perfect or not. To fix this, you have to train your mind to reframe your thoughts and beliefs. You have to learn to look at life differently. 
Not getting promoted or getting what you want does NOT make you a failure, give yourself a break and remind yourself of your awesomeness. If you can't, talk to a friend who can remind you of how amazing you are.
Stop waiting for the right time to start
Waiting for the perfect time can lead to procrastination which is why Chukwudi Ukonne, a Nigerian Writer/Creative Strategist recommends, "just getting started."
"I don't need to get it just right the first time. In fact, no matter how well I do initially, my second, third and subsequent efforts will always be better. This has reduced the pressure that comes with perfectionism," he adds.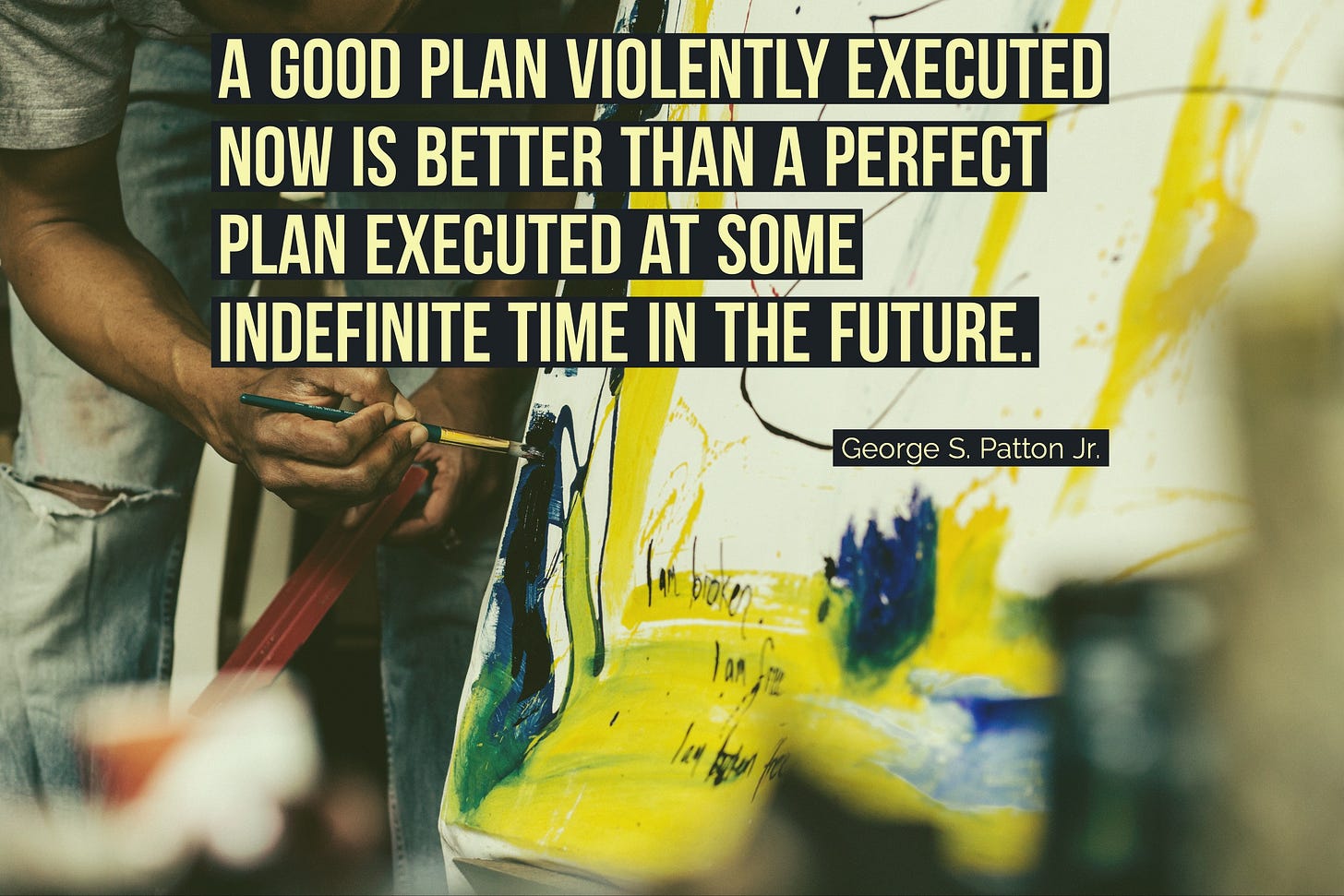 Learn to enjoy experiences instead of focusing on the end results 
To curb your perfectionistic tendencies, it's important to learn to enjoy the experience rather than just the results. 
"Perfectionists are always looking at the endgame, the grade — and that may not be the best way to feel fulfilled," says psychologist Alice Domar, executive director of the Domar Center for Mind/Body Health and author of "Be Happy Without Being Perfect."
Train yourself to enjoy something about every experience even when it does not go the way you would like. I am sure you can find at least one thing if you search hard enough.
"Taking more of an accepting stance toward experiences can reduce problematic perfectionism, " says clinical psychologist Martin Antony, a professor of psychology at Ryerson University in Toronto and co-author of "When Perfect Isn't Good Enough."
Embracing a learning mindset
For Peace Itimi, one solution is to have a learning mindset. In her words, "I have trained my mind to become biased towards action. I'd rather fail fast than never launch or try at all."
Embrace a learning mindset by training your mind to see failure as opportunities for learning and growth. Instead of failures, take them as feedback, feedback that you need to use a different approach, try something new or step out of your comfort zone.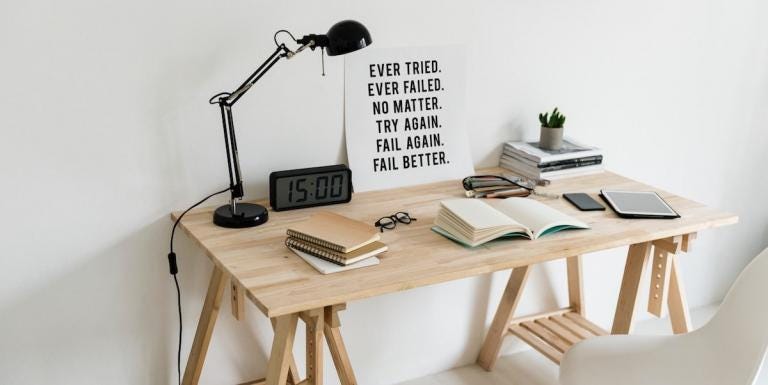 Avoid playing the comparison game
Perfectionism comes with a tendency to compare oneself to others, telling yourself that you can be perfect because of your neighbour, friend or colleague who seems to have it all figured out. You end up in an unproductive, toxic, comparison trap.
"I have trained my mind to fight against comparison with other people, Itimi writes. "I realise that sometimes our fight for perfection is much more about trying to be like the people we admire, and so in moments like that, I remind myself of the value of process and compounding. I will not be like them in one day - they did not become like this in one day. It takes time. It takes a process."
Talk to a therapist
Seeking professional help can help you find and address the underlying cause of your perfectionist tendencies. A therapist can help you figure that out and take the necessary steps toward having a more satisfying life.
Why bother?
Research has shown that perfectionism doesn't automatically resolve itself as someone gets older. In fact, Martin Smith, a researcher at York St. John University in the UK, says it may become worse with age. 
So now, is the time to work on it. Be kind as you do the work. Remember, you did not become a perfectionist overnight so don't expect to get rid of it immediately. Cheers to living a less extreme, more balanced, well-rounded life!
In other news: #TheBreakdownwithInem has been chosen. Thank you for voting. You can use it to share ideas for subsequent newsletters, notes, excerpts and to meet fellow subscribers.
Thank you for subscribing and for reading to this point. I would love to hear what you think and what you would like me to address in subsequent letters. Please reply with your suggestions by sending the hashtag or replying to this email.
Are we friends on social media? We should be https://twitter.com/Inemudodiong
You can expect 2 letters from me weekly. 
12noon Nigerian time on Thursdays and Sundays.